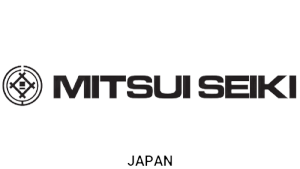 "THE PURSUIT OF PERFECTION, PRECISION TECHNOLOGIES"
Mitsui Seiki was established in the year 1928 as the first Japanese company to produce Precision Machine Tools such as Jig Borers & Jig Grinders. Today the Company is composed of two divisions that respectively manufacture "Super Precision Machine Tools" and "High- Performance Compressors".
Their range of Machine Tools includes High Precision Machining Centers both Vertical and Horizontal with 5 Axes, CNC Jig Borers, Jig Grinders & Thread Grinders.
Mitsui Seiki is a preferred brand for Aerospace Components, Machine Tool Manufacturers, Precision Parts, Automobile Parts, Power Generation and Electronic Industry with wide experience in Machining Critical materials such as Titanium, Titanium alloys, Composite materials, Nickel alloys, etc.
Mitsui Seiki machines are deployed to produce high precision parts and the Machines are used as Mother Machines even for manufacture of Machine Tools at most machine tool factories world wide.
Applications include Hard Metal airframe components, Rotating Engine Components, Engine Cases, Gearbox Transmissions, High Performance actuators,  Fuel Systems, etc.
Mitsui Seiki Kogyo Co. Ltd., Japan